Winner of the Valorise trophies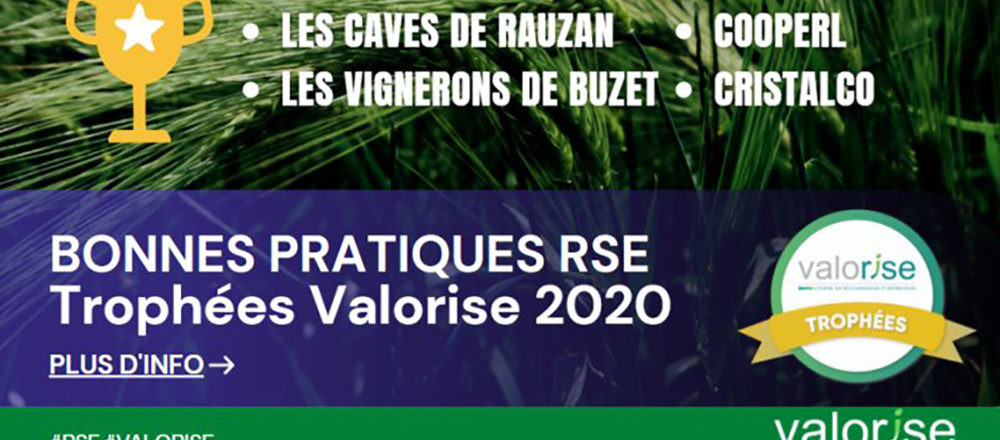 Awarded for the first time in 2020, the Valorise Trophies reward the virtuous CSR initiatives of companies. The winners of the four prizes awarded on Tuesday are: Les Caves de Rauzan, Cooperl, Cristalco and Les Vignerons de Buzet.
The Valorise CSR (Corporate Social Responsibility) self-assessment platform, created in 2017 by the ANIA (National Association of Food Industries), La Coopération Agricole, the FCD (Federation of Commerce and Distribution) and the FEEF ( Fédération des Entreprises et Entrepreneurs de France), in partnership with GreenFlex, aims to simplify the transmission of CSR information from suppliers to their distributor customers and thus enhance the responsible approaches of companies.
In this logic of enhancement, the platform created this year the Valorise Trophies, the two objectives of which are:
– Reward the concrete actions of suppliers in favor of CSR;
– Promote the sharing of good practices.
For this 2020 edition, four cooperative companies were rewarded. Through the vote of platform users, brands and suppliers, were therefore able to choose the most exemplary practices:
• Les Caves de Rauzan, for the creation of an educational pedestrian route to raise awareness among their winegrowers about the protection of biodiversity;
• Cooperl, for an approach of continuous and sustainable progress for the well-being of animals;
• Cristalco, for the creation of a biorefinery near Bazancourt to add value to co-products;
• Les Vignerons de Buzet, for the replacement of chemical fertilizers by organic fertilizers for the vineyards.
The self-assessment campaign runs until December 18, 2020: suppliers are invited to self-assess, share their results with distributors, submit their best practices and participate in the next edition of the Valorise Trophies.
The winning approaches are presented in more detail, in video format, on the Valorise platform page: https://valo-rise.com/, as well as all the information on the current 2020 campaign.
To find on youtube the presentation of the biodiversity course by Philippe Hébrard: