Orange pie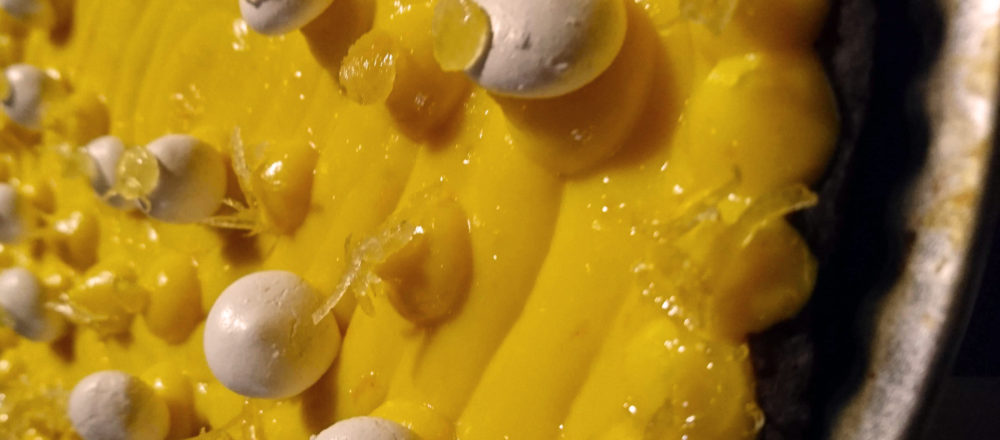 Portion :
for 12 people
Time :
40 minutes of preparation
40 minutes of cooking
Ingredients : 
For the crispy sweet pastry
• 250g of flour
• 175 g of soft butter
• 50 g of egg (1 medium egg)
• 65 g icing sugar
• 1 pinch of salt
• vanilla powder
For almond cream and orange
• the zest of 3 untreated oranges
• 90 ml orange juice
• 2 eggs
• 100 g icing sugar
• 75 g of soft butter
• 85 g of almond powder
For the orange cream
• 2 eggs
• 2 egg yolks
• 170 g of sugar
• the zest of two untreated oranges
• 180 ml orange juice
• 170 g of sweet butter
• 10 g cornflour
Sweet crisp pastry:

1. Put the egg, butter, icing sugar, pinch of salt and vanilla powder in the mixer bowl.
2. Mix with the leaf of the mixer to obtain a cream, then add all the flour.
3. Mix just to incorporate it without insisting.
4. Lay the dough between two sheets of baking paper, and flour it, then spread it finely.
5. Lay in the refrigerator 15 min.
6. Put the dough in the mold.
7. Put the dough in the fridge and prick the bottom of the dough with a fork.
8. Preheat the oven to 180 ° C and bake for 15 to 20 minutes.
Almond cream with orange:

1. Place the soft butter, icing sugar and almond powder in a bowl.
2. Add the zest of the two oranges, the eggs, and the orange juice.
3. Mix well.
4. Pour on the bottom of dough.
5. And bake again at 180 ° C for 35 to 45 minutes.
6. You have to watch, but you have to have the cream golden, like a quiche …
7. Decreen and let cool on a wire rack.
Creamy cream with orange:

1. Put the egg, yolk, sugar, cornflour, orange peel and orange juice in a saucepan.
2. Cook slowly over low heat, stirring constantly with a whisk.
3. When the cream boils, remove from heat. Let cool, then when the cream is at 50 ° C, add the butter in pieces.
4. Mix well to incorporate all the butter.
5. Let cool 10 minutes, then pour over the pie.
6. Place the pie in the refrigerator for at least 2 hours.
Decoration:

Small meringues
Candied orange zest