Duck leg in Maxime Trijol's Orange Liquour sauce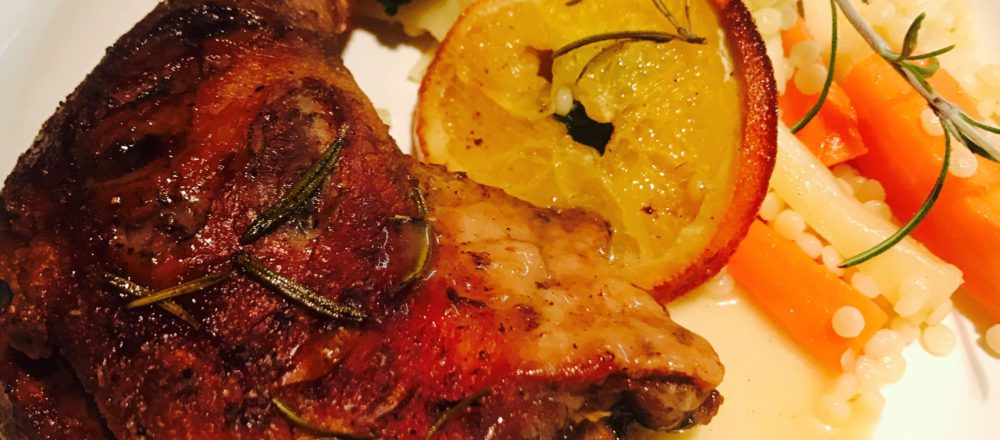 Ingredients :
• 4 duck legs
•  15 cl of Grangeneuve Sauvignon Blanc from Caves de Rauzan
• 8 cl of Maxime Trijol Orange Liquour
• 1 orange
•  3 carrots
•  300 g of broccoli
•  250g of butter
•  Fresh rosemary
•  Poultry meat fond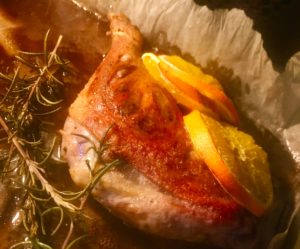 Duck legs :
1/ Make a series of parrallel cuts across the fatty skin, then turn 90
degrees and make a second set of cuts, creating a crosshatch pattern.
Season with salt and pepper. Grill the duck legs with some butter from
both sides until it is golden brown.
2/ Place the duck legs into a marmite so that there is some place between
each leg. Pour a mix of white wine and 4 cl of Maxime Trijol's Orange
3/ Liquour over the meat. Cover with orange slices and some rosemary.
Cook at 200C for 2 hours.
Sidedish : crispy carrots and broccoli with couscous
4/ Fry the carrots in butter until they become golden, add some poultry
meat fond and season with salt and pepper. Then add 20cl of boiling
water and broccoli. Boil until your required crispiness/softness is
acheived.
5/ Add some water if needed. Collect the vegetable broth for
the sauce. Boil the couscous.
Orange liqueur sauce :
6/ Pour 4 cl of Maxime Trijol Orange Liquour on a hot pan, add the
vegetable broth. Also, don't forget to add the duck meat broth from the
marmite, it gives your sauce a fine finish.